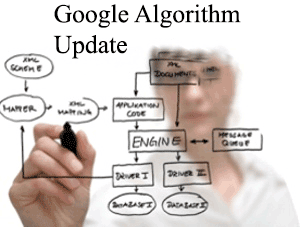 This week in SEO news, one of the big topics people have been discussing is a change coming to Google's algorithm which will affect how websites are ranked when people are searching for content from mobile devices.  The change to the search algorithm was actually announced back in February when Google alerted people who used Google Webmaster Tools that their sites were not optimized for mobile devices.  Google alerted users that if they did not make changes to their website layout and improve the display and/or performance on mobile devices that the website would not rank well within the mobile search results.
The change is going into effect on Tuesday, April 21, 2015.  Google is hoping that this change will help mobile users find better, high quality content that is optimized for their specific devices.  As not everyone subscribes to the Google Webmaster Tools platform, this could leave many people in the dark about the coming change until after it is to late.  It is always a good idea to be conscious of what types of changes are happening online; and while most businesses are focused on the day to day needs of their operation, working with a quality search engine optimization service provider such as WebVantage Marketing can help keep your online properties ranking well in the search results.
While Google does not typically alert people of its algorithm changes, this is a major change to the way Google search will work going forward.  Google is making a best effort to let people prepare for this change by giving notice and allowing for changes your website's design.  Google knows that with each day, more people are surfing the Internet from a mobile device.   In fact, a report posted back in July of 2014 showed that mobile browsing has surpassed desktop browsing. What this shows is that many of your current website visitors are possibly coming from a mobile device instead of a desktop or laptop computer.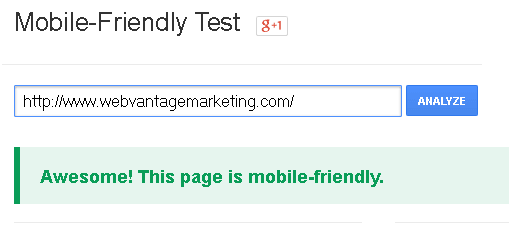 So how can you tell if your website is currently up to par with what Google is looking for?  One method would be to check out Google's mobile friendly test site and see if your website passes the test.  Alternatively, you could reach out to our SEO team at WebVantage Marketing.  Our highly trained staff can perform an audit on your website and recommend what changes would need to be done and work with our web design group to help get those changes implemented on your behalf.
Don't fall victim to the latest change coming to Google's search algorithm.  While this change will not effect your website ranking when people are searching from a laptop or desktop machine, it could very well end your traffic from mobile devices if your site is not up to par.  Based on the report listed earlier, more people are surfing the Internet from a mobile device than from physical computers.  Do not risk losing over fifty percent of your website traffic due to this revolutionary change in the Google search algorithm.  Be sure to contact us today if you would like us to do a review of your website and let you know how we can help you when it comes to your website ranking in the search engines.