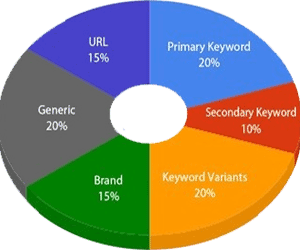 When it comes to Search Engine Optimization (SEO), their are two main areas to focus on. The first one is called on page SEO, and it revolves around your own website and the factor in which you can control. On page SEO factors consist of things such as keyword diversity in your website content, ensuring that their is no duplicate content on your website, using proper HTML display and meta tags so that your site is easy to navigate both by human visitors as well as search engine crawlers.
When it comes to off page SEO, these factors are more outside of a persons control. Off page SEO consists of things such as your website's social signals as well as your inbound links from other websites. The focus of this article will cover an off page SEO area dealing with those inbound links. When you get a link from another website, in most cases you do not have control over the anchor text that the author is using when they are creating the link to your website. Anchor text is the actual human readable words that a person is using when they are creating a link to a website. For example, I am going to create a link to our SEO services page using the anchor text Sacramento SEO.  As this content is being written by the WebVantage Marketing team, we can control the anchor text; however, if someone else was writing about us and linking back to our website, we would not be able to control how the link was created and what words were used.
Having anchor text that describes your website or your business is important.  It helps readers of other sites know a little bit about your website prior to clicking the link, and it assists search engine spiders by giving them a clue about what your site may be about.  Today it is important to think about anchor text diversity in your inbound links.  You do not want to see hundreds of links coming into your site using the same anchor text.  Just as important, you do not want to have all of your inbound links pointed at your website's landing page.  Search engines have evolved a lot over the years and they may penalize a site with a lot of inbound links that all point to the home page, or that have excessive amounts of the same anchor text.  This change occurred due to the way black hat webmasters were able to manipulate search engine rankings by using tools to automate generating inbound links to their website and stuffing the anchor text with the keywords they wanted to rank for.  If you were to try and replicate this form of link building today, you can be sure that your site will get penalized.
When it comes to link diversity, it is important that you monitor they inbound links you have currently for your website.  Their are third party sites such as ahrefs which will allow you to view who is linking to your website.  These third party sites have their own spiders constantly crawling and indexing websites across the world.  You can typically run a few free reports a day which provide a good insight as to how many links you have, the top anchor text pointing back to your site, and where in the world the links are coming from.  We use these types of tools in our early stages of SEO analysis, and also when we research our clients competitors.  If you notice a high percentage of links using the same keyword, you will want to try and change the diversity of your inbound link anchor text.
While I mentioned earlier that off page SEO is typically outside of our control, you can still generate links on other webpages, such as forums and social media profiles.  Doing what you can to create non-spammy links back to your site with anchor text diversity is important.  A small percentage of your anchor text should revolve around the keywords you  want to rank for.  Some other examples of anchor text to use could include the URL of your website, your company's name, and generic words such as "click here", or "visit this website".  Also be sure that you get links to your inner pages on your website.  Generate interesting content articles related to your niche and then share that content on social media sites.  This is a great way to generate a lot of new links to your inner pages and boost your link diversity.
In order to not get penalized by search engines today, keeping track of your link diversity is an important step in off page SEO.  If you notice you are having some problems with your link diversity, be sure to get in touch with our search engine optimization team here at WebVantage Marketing.  We can put together a safe and effective plan to help you increase your link diversity and ultimately help your website rank higher in the search engines.