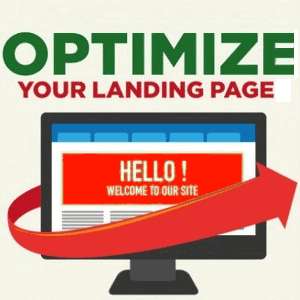 Your landing page is important to the success of your business.  If your landing page is not optimized properly, you could be losing potential customers or sales on products you are promoting.  In this article, we are going to cover some quick and easy ways to create a better converting landing page that one would use with paid advertising to capture leads.
The first step is to include all of the important elements you would need on your landing page.  The goal of the landing page in this example is to collect contact information from your visitors.  It is very important that a landing page for capturing leads contains the following elements:
A well written headline.
Persuasive copy that provides a description of what you have to offer, and if you are giving something away, a reason why people need your give away item.
A good image or video that supports the purpose of your landing page offer.
A contact form and auto responder to capture your leads and provide them with followup emails.
It is important that you keep the most important elements of your landing page above the fold for desktop browsers.  You do not want people to have to scroll to get to your contact form, or to read more about why they should provide you with their information.  Keeping videos and images above the fold is also important.  It is also important to note that when it comes to a landing page, less information tends to work better than more.  Not only will your page load a lot faster with less content, most people do not want to read a ton of information about every aspect of your offer.  Landing pages with less content have been proven to convert people better than bloated landing pages.  Landing pages meant to capture information also should not have a navigation menu.  You do not want people leaving your landing page without providing you with the information you are seeking.  By having a navigation menu, you are providing people with an exit point to leave your landing page.
When it comes to your headline, and your advertisement, you should do your best to incorporate the two together.  For instance, if your advertisement mentions a free trial of your product or service, you also want to incorporate the same verbiage of free trial into your headline.  By offering a free trial in the advertisement, people are going to visit your site expecting a free trial.  Nobody wants to find out that their is a catch or they will feel as if they fell victim to a bait and switch.  This looks really bad and will not convert well and can also increase your website's bounce rate.
If you really want to convert more people, it is important to show the value in your offer.  We recommend getting real testimonials from people who have used your product or service.  Testimonials are really powerful as people tend to trust what others have to say.  This is why sites like Yelp are so helpful to people when it comes to finding a good restaurant or service provider.  Other ways to emphasis the importance of your offer include the use of bullet points.  Using bullet points allows people to just focus on a few key areas of what you have to offer.  It also helps guide the user directly to an area of text as you can see above where we discussed the important elements of a landing page.  The text above is easy to read and not cluttered with other test.
Another way to get more bang for your buck when it comes to landing pages is to encourage social sharing.  By having other people share your landing page on sites like Facebook and Twitter, you are getting free publicity from people who are interested in your offer.  Most people have like minded friends or followers and would also then see your landing page on the social media sites.  The more people who share your landing page on social media, the more likely you are to get additional traffic and conversions to your landing page without an added advertising cost.
By following the tips mentioned above, you can expect to have a much higher converting landing page. If you need assistance with creating a high converting landing page, our team at WebVantage Marketing can help you.  We have specialized tools which help us analyze visitors on our clients sites.  Based on the data we find, we can change words and move content around to help build a more optimized page.  Reach out to us today if you would like a free consultation on how we can help you better succeed online.