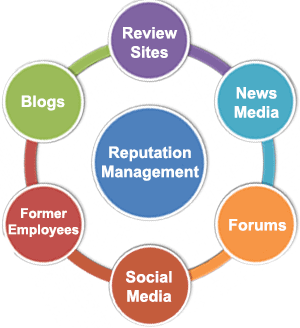 I'm sure that you can agree with the statement that 'your brand is your business'.  One of the most important factors in your company is your business name and any branding you have put together over the years.  Companies that show a favorable image online tend to attract more customers and retain their existing clientele.  Think about it yourself, if you are looking for a product or service and you have not dealt with a business that specializes in what you are looking for, how do you determine who to work with?  Sure a percentage of people will look for the best price, but you have to remember that more often than not, you get what you pay for.
Most people who are looking for quality goods or services will start by doing a search online for providers of what they are looking for.  For the example of our case study today, since the weather is over 100 degrees in Sacramento, lets focus on air conditioning repair.  If someone in the local area was in need of assistance with their air conditioning unit, odds are they would visit their favorite search engine and type in something along the lines of "air conditioning repair Sacramento'".  Now tons of results would come back with various companies that specialize in HVAC and air conditioning services.  How does one choose the best provider?  This is where the importance of online reputation management comes into play.  Lets say that the first company in the search results is XYZ Air Conditioning, you click the link to get to their website and they seem like a good company.  Do you call them based on just what you have seen…or do you dig a bit further?  Air conditioning repair and installation is definitely not a cheap service, and for your sake I would hope you dig a bit further.  In order to find out whether or not XYZ Air Conditioning is a stellar company, all you would need to do is enter the business name into the search engine.  Look at the first page of results and take a look at what you find.  Typically you would find reviews from sites like Yelp or Angies List.  These review sites provide real world value when it comes to the true service of a business.
Lets say when you did your search of the company, three out of the ten results that came back were displaying negative information about the company.  Maybe one of the sites returned was from RipOffReport, while another was from a news media site that ran a story on how the company performed shady business practices.  If you came across those search results, would you still be interested in contacting the company to service your home?  What if the Yelp reviews were full of one or two star ratings, mentioning poor customer service?  Would that put a bad taste in your mouth?
This example is proof that reputation management is crucial to the success of your business.  Even if your business was hit by negative publicity or you have a lot of poor reviews, these things can be corrected or in the worst case be pushed further down the page with proper Online Reputation Management.  While we can try to increase positive reviews by working on our customer service and training our staff, it is not guaranteed that people will ever post a favorable experience.  Our Online Reputation Management team has put together successful campaigns to help motivate your customers to post reviews online for our previous clients.  Should you have negative information about your brand ranking high in the search results, our team is also diligent about ranking more favorable content above the negative listings, thus by pushing the negative listing off of the first page or two of the search results making your business look a lot better when people search by your brand name.
WebVantage Marketing has ran many successful online reputation management campaigns for our clients.  By implementing a multifaceted campaign, we have helped repair the reputation of our clients in need which has resulted in a huge increase of business and sales.