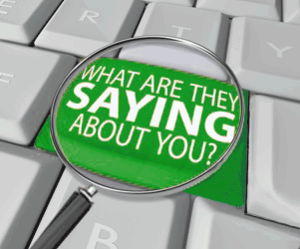 To business owners, your brand is one of the most important core areas of your organization.  While you cannot deny the need to provide a great product or service depending on what your organization does; having a brand with positive feedback and reviews will place trust in the eyes of potential customers.  When customers are searching for businesses that can help them achieve their desired wants or needs, more and more people are going online to do their research.
Take a moment to follow what an average user would do when looking for a specific business.  In this example, a user is looking for a photography company in Sacramento.  The first thing our example user does is open a web browser, visit a search engine and types in "photography Sacramento" into the search box.  The search engine will return a variety of results, including photography businesses, websites that promote top lists dealing with photography, and review sites such as Yelp dealing with photography.  The next step most people will do is jot down the names of local businesses that were displayed on the first page of the search results.  They will then search those business names to see what type of results come back.  If the top results for those businesses have positive results, people will typically contact them and become a customer.  Alternatively, if your brand when searched brings back negative results, odds are high that people will just pass over your name and move on to the next company on their list.
According to a Forbes article, online reputation management has a big impact on a company's revenue.  The article goes into an example about a company whose brand when searched had seven of the top ten results in Google being negative.  The consultant working with the company estimated the organization was losing nearly two million dollars a year in sales due to the negative search results.  Many business owners are not focused on their brand reputation online as they are focused on the day to day work or running a successful business.  By working with the online reputation management team at WebVantage Marketing, you can allow us to help keep your brand looking favorable in the search engines.
Our team uses a variety of means to move negative reviews off of the top search results for your brand name.  Our methods can boost the ranking of favorable business reviews regarding your brand thus by pushing the negative reviews lower.  We utilize a variety of means to get this done which includes press releases, Web 2.0 properties, and proper SEO and link building.  We also can work with you to improve your brand in review sites such as Yelp.
Your brand image is vital to the success of your business. Take a quick look at the video below to see how WebVantage Marketing can help you with your online reputation management.