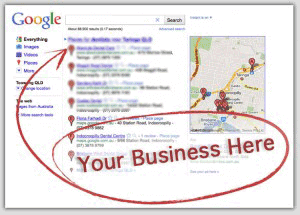 We all know how tough it can be to get your website ranked in the top positions within the search engines.  Proper search engine optimization (SEO), among other ranking factors typically come into play when it comes to normal website ranking positions.  Not long ago, the major search engine providers created a special area for local businesses which tends to be listed above the standard search result listings.  In Google this area is typically refereed to as the seven spot, as Google will list seven businesses that are related to a user's search query.  As an example, I have searched for Sacramento Air Conditioning Repair, and I got the following results in the image below.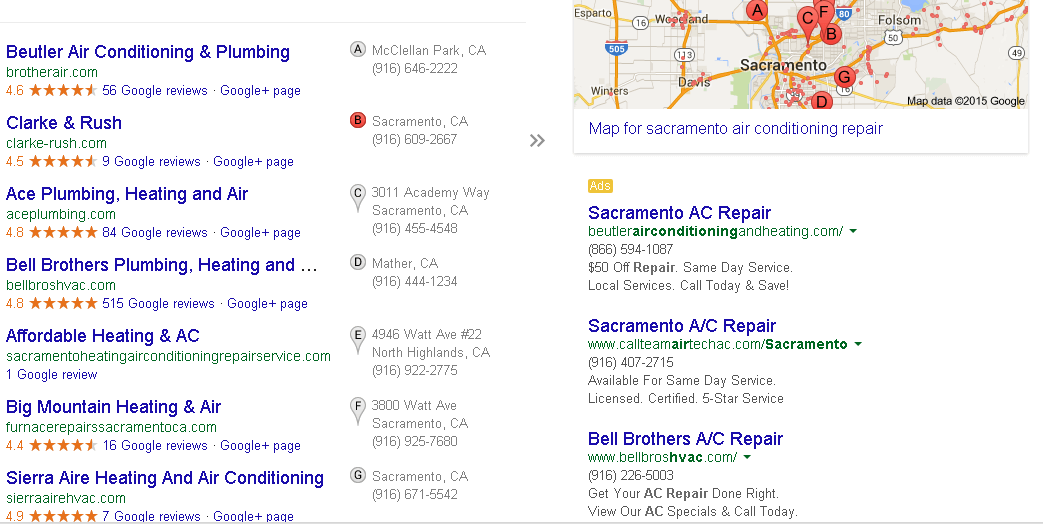 As you can see, this seven spot does not follow conventional search listing results.  Businesses that show up in the seven spot list the business location, phone number, website, and any Google+ Business listing reviews.  Along with that information, Google provides a map detailing where the companies are located geographically.  Studies have shown that a lot of people tend to contact listings in the seven spot over standard search result listings.  This is mainly due to how high the seven spot listings tend to be in the search results.  Other reasons include the easy access to user ratings, and quick and easy access to the company contact number.
If you want to rank quickly and attempt to increase your customer base, your goal should be to rank in the seven spot.  If you notice from the image above, each of the companies listed have a Google+ Business listing page.  This is one of the key steps to being listed in the seven spot.  Getting a Google+ Business page, which you will need to verify is the first step to obtaining your spot in this crucial area of the search listings.  Once you have a verified Google+ Business page, you can expect to find your business when searching within Google Maps.  Once you find your business in Google Maps, you can move on to the next phase of getting your site into the seven spot.
Citations are crucial to local business listings.  A citation is a directory submission that provides people with information about your business.  Think of the Yellow Pages as a citation from the past.  Now days, citation sources would include Yelp, Super Pages, Yahoo Business, Bing Places, Angieslist, etc.  Their are tons of directories in which you can submit your business listing and generate citations.  The more citations you have for your company, the better it looks in the eyes of the search engines.  Our search engine optimization team specializes in building quality citations for your business which will greatly help you increase the odds of being listed in the seven spot.
Other things you will notice in the image above is that each business in the seven spot has reviews.  It is important that you strive to have your customers post reviews about your business.  Their are many ways to entice your customers to leave reviews for your business.  We have recommended putting contests together, as well as offering promotional discounts.  So long as you do not force your customers to leave false or positive reviews in order to take advantage of your contest or discount you should not face any issues.
We highly recommend that you strive to get your business listed in the seven spot area of the search results.  You can be sure that you will be seen by a lot more people than if you were just trying to rank your website.  It is also a lot easier to try and rank in the seven spot right now versus trying to get page one listings for your website.  If you would like us to put together a campaign for you to try and rank your business in the seven spot, please contact us today.